Ulupna Shiraz, Chardonnay & Cabernet Sauvignon
15 ha of the 22 ha Ulupna vineyard are dedicated to Shiraz, 4 ha are dedicated to Cabernet Sauvignon and 3 ha are dedicated to Chardonnay. Older plantings (2000) of Shiraz and plantings of Cabernet Sauvignon were originally cuttings from a neighbouring vineyard, which grew original plantings of grape varieties that arrived in Australia in the 1880s. Un-grafted and close planted using a modified Smart-Henry trellising system; Shiraz plantings are picked and fermented separately from the newer plantings (2004).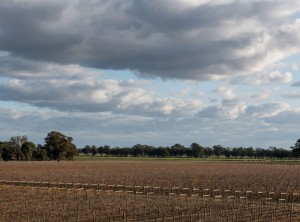 Using a more traditional Double Guyot system, the newer plantings are clones of SA1654, which is renowned for its chocolate, spice and black pepper flavours with a fine-grained tannin structure. Cabernet Sauvignon and Chardonnay plantings were both planted using a traditional Double Guyot trellising system.
The vineyard is cultivated using as close to organic principles as possible as well as minimal chemical inputs to retain the natural terroir.